The recently opened second location of Compartes Chocolatier, on Melrose Place in Los Angeles, is an amazing space to pick up some beautiful sweets, treats and gifts. Created by Jonathan Grahm, named one of Forbes "30 Under 30", Compartes is known for over 100+ varieties of gourmet chocolates, made in their Los Angeles chocolate shop. Jonathan is known as one of the most famous and prolific chocolatiers in the country for his gourmet luxury chocolates, chocolate truffles, chocolate bars and salted chocolate delights.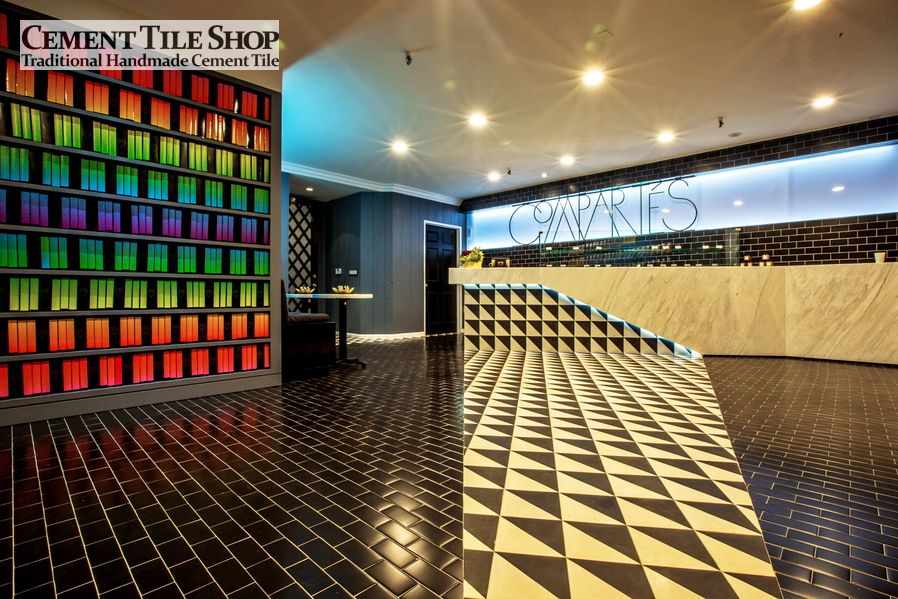 The Compartes interior, designed by AAmp Studio, has an amazing triangular black and white tile design featuring our Caribbean Diagonal handmade cement tile pattern. The modern space is unlike any chocolate store you've ever seen featuring walls of chocolate bars displayed invitingly.
Getting hungry yet?
These beautiful photos of the space were provided by leading photographer Elizabeth Daniels of Elizabeth Daniels Photography. She is a regular contributor to Eater, Racked and Curbed in LA.
We have several in stock diagonal cement tile patterns of various colors that can be used independently or mixed together to create unique looks. Please contact Cement Tile Shop at (800) 704-2701 for more information or to order!